Our History
Botanical traditions has been in opperation in Melbourne since the mid 1990's, with early experience in small inner city gardens to large country estates and commercial projects. We built a reputation on our ability to work with clients to create a landscape that is a unique reflection of our Clients tastes and lifestyle. As a result our gardens are as varied as our clients. We still do a select few residential projects each year.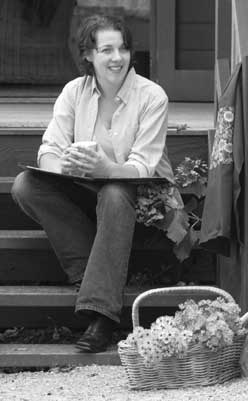 Her residential landscape designs have been featured in a number of publications including 'Outdoor Design and Living', and she has written articles on water sustainability issues for 'Backyard Design Ideas' and 'Landscape Outlook.
Since 2008 her firm has primarily focused on commercial design projects such as small public open spaces, community centres and playspaces.
Ruth has also tutored at University of Melbourne for the Landscape Architecture department and is a guest speaker at many different community events.
We offer clients the rare combination of big firm talent with small boutique service – all our clients and their projets receive individual attention, while at the same time having the benefit of a wealth of experience and a flexible attitude. We enjoy forming long term partnership with our clients in achieving their ideal landscape designs.
For our clients, the projects they bring to us are important. We understand that these projects aim to be more than just aesthetics – whether that's about improving their business performance, enhancing their customer image, improving the quality of care and learning experiences for children, or helping to build community networks - we want to help you achieve this and need to get to know you in order to do this. Obviously, in many cases confidentiality is important and we are used to this situation.
we also use a complete workflow program. This allow us the ability to carefully monitor projects and if required produce detailed progress reports.
Ruth Czermak - Founder, Principal Landscape Architect and Horticulturist
Our landscape design team consists of Landscape Architects, horticulturists, landscape designers, Achitects and strategic thinkers who are dedicated to mixing art with nature, design and technology. This team supports the creative process via taking part in the design and documentation process.
We pride ourselves on developing strong partnership with our Clients and related professionals, such as Architects, landscapers, plumbers and suppliers. This ensures that Botanical Traditions creates beautiful, functional landscapes with suitable horticultural designs and details that are an asset to theirowners and managers.
Our landscapes are inspired by a combination of experience and imagination, and they forge connections between people, architecture, and land.  We strive to enhance the constructed landscape and natural environment through a considered approach. We have a special interest in the social aspects of landscape designs and the promotion of identity through landscape. 
At Botanical Traditions we view all projects as unique - be it a residential design, commercial landscape or early childhood playspace.  We take your design objectives and achieve them, while maintaining a strong focus on environmentally sustainable landscape design and construction methods. We feel it is important to offer a full package for our clients – this means we can follow through from the initial Concept Designs to the issue of the Tender Documents and beyond.

We believe that landscapes should be valued, lived in and enjoyed, while providing the necessities of modern living and related experiences.
Our design philosophy includes developing a comprehensive strategy that takes the specific site and project, from overview through design to construction all with sustainability in mind. We enjoy working on projects where we get to use recycled or unusual materials. Through the entire project, we proceed thoughtfully and with a constant eye to the landscape project detail to ensure the goals and expectations of the client are met AND exceeded!